Work Smart,
Save Resources.
CTERP allows you be more direct, efficient and precise.
Plan, manage, pay and share your projects with your team.
Add specific people with distinct roles to projects and smartly distribute the tasks.
All tasks and projects are linked which is sorted to be organized chronological order.
Assign skills to each member and see the individual's contributions with one glance.
Manage projects with ease. Multiple projects from the same client and its financial aspects can be all linked together.
All financial data are automatically analyzed and organized with easy-to-see graphs and figures.
All schedules and important information about the clients are linked together and kept safely within the system.
All office supplies can be managed within the system. Know where it is, and how often it is used with an instant.
Export pre-formatted PDFs with all the information you need including quotations, invoices, receipts and more.
Also developing more features
Linked with other features of the system, the chat allows you to communicate with more precision and clarity bringing you the maximum productivity.
A separated page for each clients with dedicated chatroom, progress bars and necessary documents.
Share knowledge, uodates and news to your coworkers. An SNS platform for internal communications.
Connect via API
It's just few steps
Make your workflow more efficient by automating many of your tasks by connecting to other services via API.
Less clicks,
More productive
The instinctive UI allows anyone to use the system with ease.
You don't have to spend your time reading stupid manual, that has plenty of pages. Excellent UI lead you to the right page with few clicks.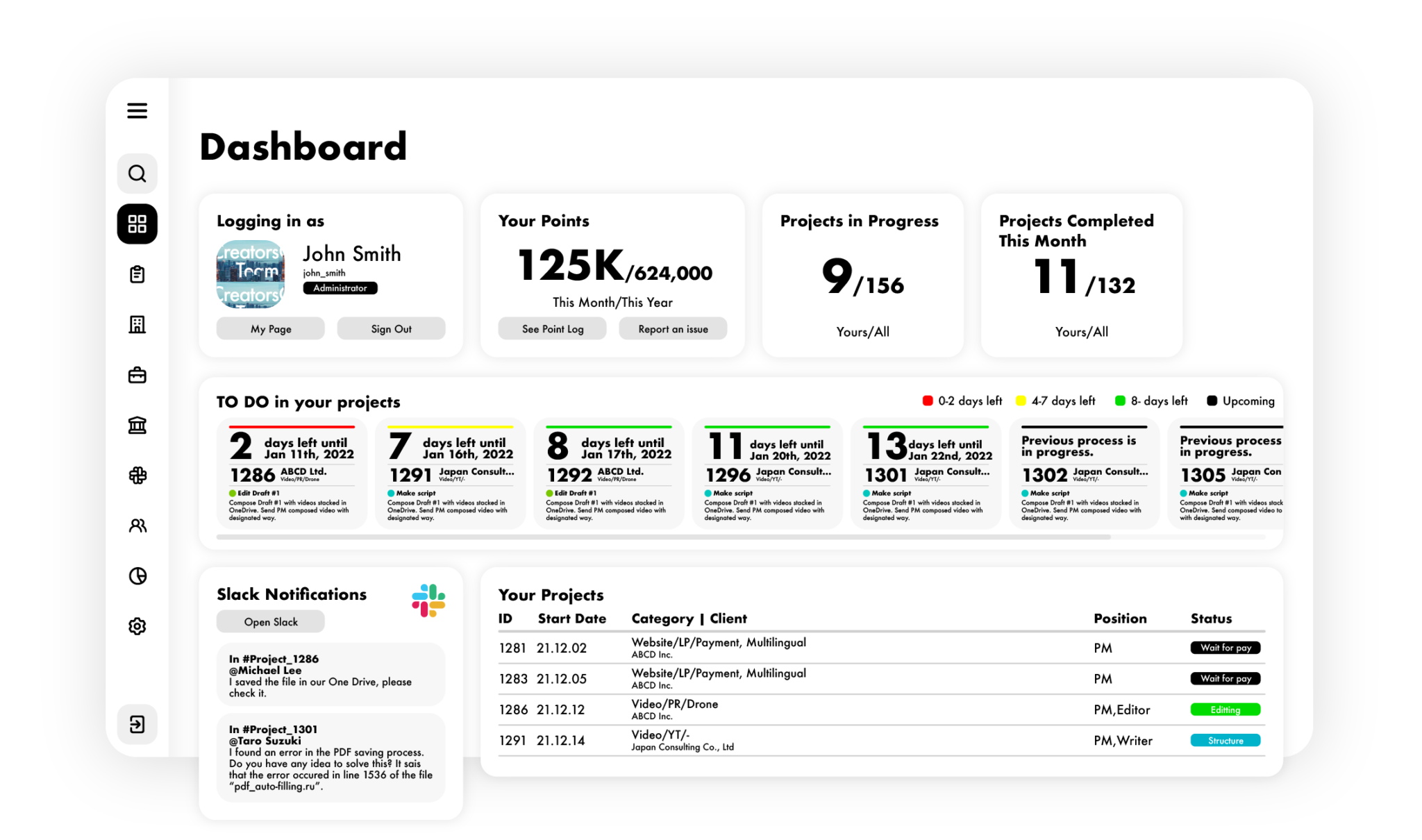 YOUR EYES AND GOOD SLEEP matter
Good news for those who work till late!
Don't let a bright screen mess with your eyes or sleep.
Automatically adjusted to your browser settings.
Figures indicating how CTERP is essential
Join over x teams worldwide who are using CTERP to achieve more productivity.
boost your business with powerful features
Sign up right now. It's FREE!
Just enter your email address to register.
No payments are required.
Hear what our customers are saying
When you starting a company you are thinking on how to cut expenses. One of such options to cut the startup costs is a company logo design. But is it good idea to order a cheap logo or work without company logo at all?
CTERP is a service of Creators Team Inc.
3-10-11 Moto-Azabu, Minato-Ku, Tokyo, JAPAN